Lynn Hall Memorial Park, the main public beach on Fort Myers Beach, is adjacent to Times Square and that's where you'll find the fishing pier. Bowditch Point. another popular public beach, is on the extreme northern tip of the island; however there are numerous smaller beach accesses with parking all along the Gulf off Estero Blvd.
The south end of the Estero Island hosts a wide selection of beach front resorts in addition to Lovers Key State Park, the most-visited state park in Florida. Throughout the area you'll find smaller parks, recreation areas and marinas for fishing, boat rentals and a whole lot more. A popular activity is Pirate Cruise at Salty Sam's Marina at where tourists can take a 90 minute swashbuckling adventure cruise on the high seas of the Gulf of Mexico.
For fishing there are numerous charter boats and several larger "party boats" like Capt. Tony's Fishing Adventures that offer half-day and full-day all inclusive packages that are fun, bountiful and affordable for the whole family.
Located on Estero Island, Fort Myers Beach is often referred to as the "World's Safest Beach," because it has a wide shoreline that gently slopes into the Gulf of Mexico. An absence of steep drop-offs makes it an ideal spot for family vacations.
At the north end of the island, a casual beach village with Fort Myers shopping and restaurants is found along a pedestrian walkway called Times Square. There are a variety of beach resorts, major hotels and smaller mom & pop accommodations located within a half-mile of Times Square for those who like to stay close to Fort Myers Beaches.
Every imaginable water sport activity is available for tourists on Fort Myers Beach. Paradise Parasail is popular way to get a bird's eye view of Estero Island. You also can rent jet ski's, kayaks, or take a dolphin tour at beach-front stands like Adventure Watersports.
Activities aren't confined to just the Gulf side of the island. For boat rentals, there's no better place than Salty Sam's and their fleet of pontoons and rental boats. Just down the street are the docks of Key West Express, where visitors can take the short cut to America's southernmost city. Mini golf is always a great idea for family fun and Smuggler's Cove Adventure Golf is one of the area's best.
The Matanzas Pass Wilderness Preserve overlooks Estero Bay with an elevated boardwalk, more than 40 acres of live oak hammock and 4,000 feet of mangrove shoreline. Nearby, the Fort Myers Beach public pool offers a cool fresh-water alternative to the beach with a large tubular waterslide, children's pool and lifeguards.
You'll also find a huge selection of dining and shopping options along Estero Blvd as well as off San Carlos Blvd, the road that leads to the beach. A favorite dining spot on Fort Myers Beach is Parrot Key Carribean Grill at Salty Sam's.
Fort Myers Beach enjoys a reputation for friendly folks and a wide, palm-shaded beach. It's an all-around top choice for a great vacation. Full tourist information can be found through the Fort Myers Beach Chamber of Commerce about a mile south from Times Square.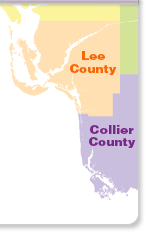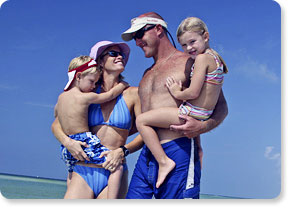 Fort Myers Beach is an ideal spot for family tourists. Known as "The World's Safest Beach," it has a wide shoreline that gently slopes into the Gulf of Mexico.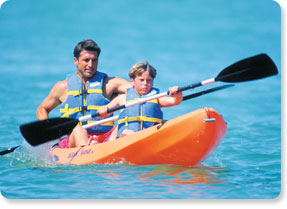 Water activities like sea kayaking, parasailing, fishing and more abound on Fort Myers Beaches.